For the second year running, we are proud to announce our position as a Leader in the 2022 Gartner® Magic Quadrant™ for Software Asset Management Managed Services.
Our position as a Leader in the Gartner® Magic Quadrant for SAM Managed Services recognizes our Completeness of Vision and our Ability to Execute on that vision. We believe this recognition acknowledges the skills and expertise across our entire business, and our continued investment into our technology. Livingstone will continue to strive to be the best in class, globally for all our clients and partners. To get your copy, click here.
"We are delighted that Livingstone has once again been recognized as a Leader. This recognition reflects our company values to Commit, Collaborate, Inspire and Innovate. I believe that this acknowledges our outstanding expertise across all major software publishers, our commitment to customer success and the value of the investment in our IP"
Chris Allan, CEO at Livingstone Group
Gartner® Magic Quadrant™ for Software Asset Management Managed Services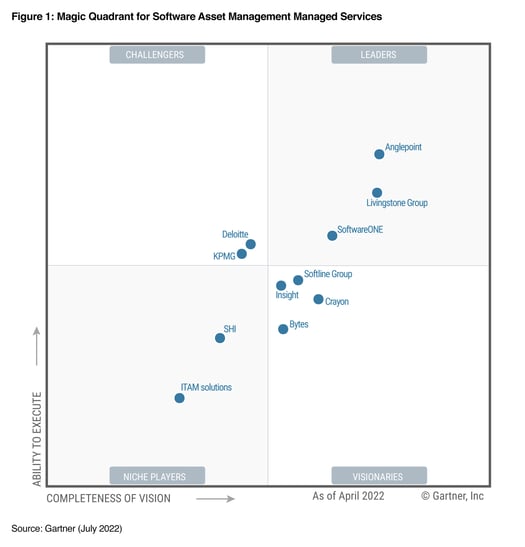 Authors:

Stephen White, Yoann Bianic, Rob Schafer


Released:

19 July 2022

The Gartner® Magic Quadrant™ is a culmination of research in the Software Asset Management Managed Service market and the report shows how 11 of the recognized Service providers are positioned in terms of their Completeness of Vision and Ability to Execute. As such Livingstone have been positioned in the Leaders quadrant in 2021 and 2022. Quantitative data collected was for a 12-month period ending February 2022



What the report includes:



An unbiased view of the vendors and their vision and ability to deliver on a complete and continuous SAM Managed Service.

Their strengths and noted cautions.

Insights from Gartner to support a review of the current providers in the SAM market and their potential to shape the market in the future.